InSite Water is designed and maintained by the team at Organica Engineering, an independent engineering consultancy specialising in partnering with other organisations on Integrated Water Management and other sustainability opportunities. We are based in Melbourne, Australia.
The InSite tool has been developed with the support of Manningham Council, Knox Council and Melbourne Water.
We, with the help of InSites users, are able to constantly update and upgrade InSite to reflect changes to industry standards.

This means that you can always be sure that your calculation methodology is up to date and your projects for small scale development are meeting the criteria in multiple areas.
The team at InSite wants to make sure that we are extending the useful life of existing council stormwater infrastructure.
We believe that working with what we have and not putting pressure on the systems in place is extremely important in creating effective Integrated Water Management Solutions.
The environment impact that we can have through water management is not insignificant. Making sure that we are creating greener and cooler urban environments is extremely important in making sure that our environmental footprint is minimal.
We share the big missions of healthy streams and waterways, protecting aquatic life and keeping our beaches swimmable.
InSite is able to help clarify how stormwater standards apply to your project, reducing the time it takes to receive approvals, and improving the design outcomes.
The building occupant also benefits by saving money and reducing portable water use, where rainwater is applied to fit-for-purpose practices, such as in toilets, hot water, laundry washing and garden irrigation.
Urban stormwater design has traditionally focused on peak flows and pipe conveyance. Design standards have evolved and now require stormwater design to consider catchment changes created by urbanisation. Engineers Australia[1] now recommends the design and installation of volume management facilities as part of drainage design.
Stormwater design also needs to look after the needs of the site, the surrounding catchment infrastructure, and the receiving waterways. Water Sensitive Urban Design (WSUD) promotes the sustainable use and re-use of water in urban planning and buildings. This type of design integrates the water from all sources – including rainwater, stormwater, groundwater, mains water and waste water – into urban development and building design. WSUD measures and tools can be applied to residential, commercial and industrial developments and buildings. They include the storage, infiltration into the ground, treatment or use of stormwater runoff. Capture and use of stormwater run-off in urban areas has many social, economic and environmental benefits including:
Saving money and reducing portable water use where rainwater is applied to fit-for-purpose practices, such as in toilets, hot water, laundry washing and garden irrigation.
Creating greener and cooler urban environments with high visual amenity.
Reducing flood risk and damage.
Extending the useful life of existing Council stormwater infrastructure.
Below: Developments must incorporate the following integrated water management objectives. These principles, and their respective design responses, must be targeted when considering the stormwater design options for a site.
In addition, sustainable design requirements require designers to consider water efficiency and drought resilience.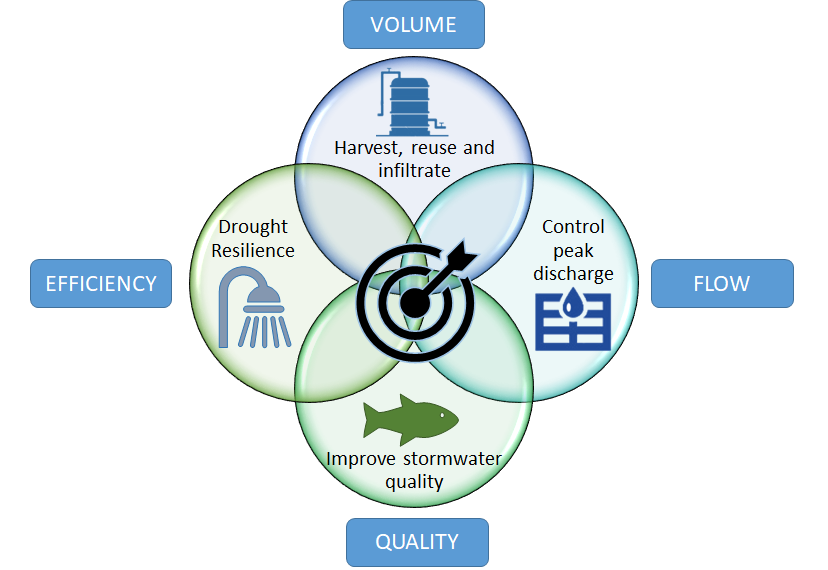 InSite is the result of 5 years and $300k investment, is a collaboration of Stormwater Australia members, and has over 500 building design professionals and Council officers using it, including 10 Victorian Councils.
The InSite methodology is based on Book 9 of the ARR 2019, which was relaunched in March 2019. This as it is considered the primary text of the stormwater industry.
InSite Water aims to provide a way of undertaking the engineering calculations required by book 9 (the Urban Chapter) of the 2019 ARR, including providing the calculations and targets for relatively new concepts such as source control and volume management, while still providing calculations for more established methodologies like sizing a detention tank and measuring stormwater quality improvements in a system's design.
Ian Adams is an experienced public speaker, workshop facilitator and trainer, regularly providing training at the highest levels in government and the building industry. As the CASBE / MaV's endorsed BESS trainer, he trained hundreds of planners, engineers, and building professionals on sustainable design. He is a certified assessor and trainer for the Green Building Council of Australia, regularly lectures at RMIT and Melbourne Universities on sustainable design and city infrastructure. Ian has been instrumental in helping develop industry toolkits such as InSite Water, BESS, Green Star, STEPS, the SDS planning assessment tool, and he has an in-depth knowledge of how to implement WSUD and sustainable design in buildings. Formerly he worked as Sustainability Coordinator for Frasers (Australand) guiding their implementation of ESD and WSUD into over 1,000 housing, industrial, commercial and apartment buildings.

– Undertaking in house training and workshops on implementing ESD, WSUD and sustainable capital works for several Victorian councils including the City of Port Phillip, Whittlesea, Frankston, Maribyrnong, Manningham, Casey, Dandenong, Knox, Hobson's Bay, Brimbank, Whitehorse, and Penrith, Yarra Ranges, Queanbeyan and the Blue Mountains Council in NSW.

– Faculty Member and Trainer for the Green Building Council of Australia, running the Green Star Courses in Melbourne, Perth and Brisbane for over 8 years and training over 1000 building industry professionals for the following Green Star courses: Design and As-Built Course, Green Star Performance, and Green Star Communities.

– Lecturer for RMIT university for the last 9 years running the Urban Systems sustainable design course for undergraduate Environmental Engineers and the "Masters of Sustainable Practice" course, including WSUD modules, focussing on integrating sustainability into the built environment and urban infrastructure.

– Lecturer for Melbourne University's architecture faculty, teaching Masters of Environments students about Green Star and built environmental sustainability.

Version 2.3 release Feb 2020
– Enhancement: Added water treatment drawings to the tool / reports
– Upgraded membership options

Version 2.2 release Sep 2019
– Reinstated local adjustment factors for stormwater Quality calculations to closer emulate STORM scores
– Added pervious paving as a treatment option. Pervious paving area will reduce the impervious area counted by the tool.
Version 2.1 release Aug 2018
– Enhancement – New projects page with one table to edit and delete existing projects
– Enhancement – New 'roof area' option in impervious areas table. The 'roof area' option allows users to easily adjust the area of a roof connected to a water to a water tank. Please note for this update to work well for existing projects, please change and then re-select the 'Council' from the dropdown on the first page – as this will reload all of the local climate data.
– Minor adjustment – tank detention allowance is now 33% of tank volume instead of 25%.
– Added an option to manually enter the building occupancy from 'Building Type' dropdown menu in 'Building Spaces' occupancy calculator section