InSite Water is an Integrated Water Management tool designed for use on single lots in Australia that need quick and accurate stormwater engineering answers.
This site will allow you to optimise:
– detention tank sizing
– stormwater treatments such as raingardens
– water savings through efficiency
– water tank size optimisation
– volume management using water retention and infiltration sizing
Please note that we believe in continuous improvement, so numerical results may evolve over time without notice
This site is simple to use but provides robust stormwater design and engineering answers.
Quick Start
To get started register then go to 'My Projects' in the top menu and then click on the 'New Project' button. Complete the three pages of the tool and submit it to be able to generate reports.
You can save a draft, or return and edit or update a completed project at any time, but make sure you save your changes using the save button each time you edit your projects.
To generate reports go to 'Reporting' in the top menu.
This tool is free to use if you are submitting to a subscribing Council.
Our Approach
Urban stormwater design has traditionally focused on peak flows and pipe conveyance. Design standards have evolved and now require stormwater design to consider catchment changes created by urbanisation. Engineers Australia[1] now recommends the design and installation of volume management facilities as part of drainage design.
Stormwater design also needs to look after the needs of the site, the surrounding catchment infrastructure, and the receiving waterways.  Water Sensitive Urban Design (WSUD) promotes the sustainable use and re-use of water in urban planning and buildings.  This type of design integrates the water from all sources – including rainwater, stormwater, groundwater, mains water and waste water – into urban development and building design. WSUD measures and tools can be applied to residential, commercial and industrial developments and buildings. They include the storage, infiltration into the ground, treatment or use of stormwater runoff. Capture and use of stormwater run-off in urban areas has many social, economic and environmental benefits including:
Saving money and reducing potable water use where rainwater is applied to fit-for-purpose practices, such as in toilets, hot water, laundry washing and garden irrigation.
Creating greener and cooler urban environments with high visual amenity.
Reducing flood risk and damage.
Extending the useful life of existing Council stormwater infrastructure.
Developments must incorporate the three following volume management objectives. These three principles, and their respective design responses, must be targeted when considering the stormwater design options for a site. In addition, sustainable design requirements require designers to consider water efficiency and drought resilience.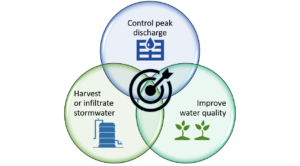 Training Videos
WSUD in planning and building approvals training video (Thank you to Frankston Council and the Melbourne Water Living Rivers program).
This is our guide on how to submit a stormwater plan, including a quick tutorial on using InSite water and case studies

Full online training package
For a full 2 hour online training course including a briefing on the 2018 Victorian Planning Provision updates, please use This Link to our dedicated online training platform.
In Person Training
See this page for a list of our current planned courses.
For background reading on Integrated Urban Water Management, please see the following links:
Australian Rainfall and Runoff 2019
Best Practice Sustainable Design Guides:
Manningham Sustainable Urban Drainage Guide
IMAP 4.0 Stormwater Management.pdf
IMAP 3.0 Water Efficiency.pdf
WSUD Engineering Procedures Stormwater Stormwater eBook by Melbourne Water
Available on the Amazon.com.au Kindle Store
Other online resources
Melbourne Water Stormwater site
Clearwater – training and events on integrated water management